WELCOME to our website and at the Nürburgring. Home of several local racing teams, famous racing teams and motor sports fans from all over the world.  In the racing season our house is a center of hospitality. Hikers, cyclisy of the Eifel region.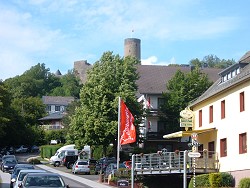 Relax in our modern roms in different categories or appartment with wirlpool for 4. Enjoy your time in our Sauna or Solarium, in our beer garden, Bar or on our lawn. We serve you good plain cuisine and dishes typical for the region. Larger groups, clubs, companies and associations will find our house the perfect place to stay.
Our premises are excellently suited for meetings or company events. In our hotel and guest house we dispose of more than 80 beds. A large parking lot is located next to our house and some garages too. There is dry room for wet motorbike clothes.  A large breakfast buffet is provided each morning. This 3star hotel in the health resort of Nürburg, less than a 5-minute walk from the Nürburgring racing venue. The Land-gut-Race-Hotel zur Burg offers free Wi-Fi.  2 rental companies are in the neighbourhood.  Rent a Racecar 20m/150m (rent4ring or rsrnurburg.com).  Pistenklause 80m,  Nordschleife open 15.3-15.11 2019 .    ( BOOK ONLINE )    Phone 0049  2691  7575  FAX 7711
Opening hours Nordschleife!
Opening hours Grand-Prix-Strecke!
                              This email address is being protected from spambots. You need JavaScript enabled to view it.             Nordschleife / Paddock 300 mtr.        Nürburg / Castle 100 m.